May 06 to May 20, 2013

Like us on Facebook. We post news of quilt shows, new items, point out an existing item, share people's quilt projects, even share other web sites.
Follow us on Pinterest. Pinterest is an online pinboard. Organize and share the things you love.
Sales starts May 7th; 20% off of your order including items already on sale. Coupon code is "0520". Sale ends midnight April 20, 2013. Type in the coupon code at check out time. All else fails, email me at spool@uniquespool.com or telephone at 208-465-4412.
CRUMB CLUB
We are so excited to announce a new block swap coming up later this summer. We will be calling it the Crumb Club. Start saving your "Crumbs" for the upcoming Crumb Club. The Crumb Club is a block exchange with other crazy, dedicated quilters around the United States. I have included a blog address which has great pictures and instructions on Crumb blocks. It may be helpful!! Quiltville Blog. At present, I have a goal of a minimum 50 participates before the Crumb Club can be officially launched. At this time, I am taking names, addresses, phone numbers and email address (no money at this point). Email link information to: Pre-registration or pre-register on site at Crumb Club When it is a go, I will notify you and provide you with the link for a one time payment of $10.00. You will then receive the active list of quilters such as yourself who you will contact for the block exchange. Questions? Call Roberta at 208-465 -4412 or email at spool@uniquespool.com. This will be fun and will take some folks out of their comfort zones, stretching imaginations and getting rid of fabric pieces and parts just too good to toss out. In the end you will have a quilt with fabrics from many different quilters. Goodie, no kits to buy!! We will be looking to have a minimum of 50 dedicated quilters to be able to launch the Crumb Club. Think about it!!! I will be keeping you posted on the progress.
If you would like to get on the Crumb Club pre-registration list now, just send all your contact information to spool@uniquespool.com, subject line: Crumb Club Pre-registration, or click Pre-registration. Your information will be shared with other members of the Club when it is launched.
Block size and fabric: Each block will measure 3.5 inches square and consist of at least 5 prints and solids but can be as many prints as you can fit in, keeping in mind a 1/4 inch seam allowance. Your block will resemble a Crazy Quilt block as the pieces and parts are randomly chosen and attached. The idea is to use the clippings, miss- cuts and left overs from other quilt projects without purchasing "new" fabrics.
Fabrics must be 100% cotton, quilting weight. No denim, velvet, poly, silk, wool, brocade, tapestry, upholstery or other exotic fabrics .
Blocks won't be identical as there is no set pattern. Fabrics are randomly selected so the blocks will, more than likely, not be "color coordinated". Blocks must lay flat.
Cost: A one time fee of $10.00 for the contact information of 50 participates.
Who can participate: Open to everyone in the USA only.
Unique Spool Responsibility: Upon receipt of payment, to send you a current list with names, addresses, telephone numbers and email addresses of quilters eager to participate. The list will come to you via email in a PDF file or as a link (html) through the internet.
Your responsibility: It is up to you to contact each other through email or snail mail or telephone, deciding on how many blocks you want to exchange with each other (whether it is one, two or more blocks). Any cost involved including; stamps, envelopes, phone, envelopes and the like is your responsibility.
For the original launch of the Crumb Club, we will have a little incentive to get you going. Feel free to participate and share your creations.

Eligibility for awards: Six months from first list exchange to finished top. Collect a minimum of 50 blocks (more is even better), get your top together and summit your photo to Unique Spool for judging via email. Deadline is TO BE ANNOUNCED WHEN CLUB IS LAUNCHED. Tops can have sashings and borders using at least 50 Crumb Blocks in any setting you like. Minimum top size is 30.5×30.5 if you choose a 10 block by 5 row setting. Of course, other settings and/or sashings, borders, added blocks or whatever, will increase the size.
Awards: First, second and third place ($30.00, $20.00, $10.00) will receive gift coupons to be used for purchases on Unique Spool site. I am hoping to post pictures of submitted tops on line.
What is the Crumb Club:
The Crumb Club is a block exchange with other crazy, dedicated quilters around the United States. I have included a blog address which has great pictures and instructions on Crumb blocks. It may be helpful!! Quiltville Blog
Six new African prints, a new dragon panel, 2 new fat thirds bundle. Four of the new African prints (500,502,503,504) have little shinny dots on them. All four prints are identical, just in different color ways. Absolutely beautiful prints!!

CIERRA ASHLEY
link
: We have added a new link for the Cierra Ashley newsletter on sales. You can find the latest newsletter under ABOUT US on the home page of Unique Spool.
QUILT GALLERY link: We have a new link with quilts and other projects you or someone else has made, whether using any of our products or other shop's. If you would like to share your goodie, just send a picture along with a short description. I will use only your first name and last initial. The new link is located under ABOUT US on the home page or click here.
QUILT AND CRAFT SHOWS link: We would very much like to list your guild's quilt show on our site in QUILT AND CRAFT SHOWS on the HOME page. If the show has a web address, please send it. I can glean information from the site. If not, please include; title of show, guild name, city and state, date, times and a contact number if available. Little purple hearts ♥ indicate shows we have participated in in past years. It is located under ABOUT US on the home page or click here.
SHOP HOP: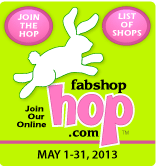 May hop has started. Remember, there is no fee for you to participate! You may just win the grand prize or one of many $10.00 gift certificates from a whole slew of shops.
Click on the HOP link on the left to go to the official Shop Hop site. You will not only discover new fabric shops but you may just win!!
Web Site HINT:
Those little pink hearts
♥
next to each product on the web site are a great convenience to use while you are deciding on just what you would like to arrive in the mail. Click on the hearts you want to review. They will all be in
MY FAVORITES
under the
SHOP
button next to the
HOME
button. They will be organized in one spot making your selections easier. A great tool for your shopping experience! Add and delete, collect a few, collect a lot. Use it for a wish list.
I am so glad you are a member of the newsletter. I appreciate your loyalty. The various sales, new arrivals and discounts are only available to members of the newsletter. The general public are not aware of them. If you would like to share the coupon numbers with friends, please feel free to do so.
Thanks so much for your participation in our newsletter.

Roberta Dent
spool@uniquespool.com
208-465-4412
uniquespool.com
Cierra Ashley – fragrance for life. You are going to love these fragrances. The decorative pots are simply gorgeous. You get great home fragrance without flames, heat or messy wax. The scent is safely spread throughout the entire area with the unique fan system. Fragrances last 400 hours with two wicks (included), covers about 1000 sq ft area. New mini fans, new fragrances. Come by and see us at Cierra Ashley.
You too can be an Advisor, host parties and open houses. Just call me, Roberta Dent, at 208 465 4412 and I will do the rest. If you contact the home company, my Advisor number is 100075.
—————————————————————————————————————————————-
I am now a Mary Kay Consultant !! The web site is at www.marykay.com/robertadent. New limited edition products along with your favorites.New products have been introduced.