October 22, 2014 – November 1, 2014
Credit Cards: Your card is not processed until the order is physically filled. We will notify you if there are any shortages or out of stock items for your review and approval before shipment.
Like us on Facebook. 1080 follow us already!!
Follow us on Pinterest.
Twitter
Surf's up!! Well maybe not. Have fun carving your pumkins for Halloween. If you visit Pinterest, do a search for Pumpkin Carving. Inspiration plus.
We are offering a 25% discount on everything. Coupon code is "halloween". Sale ends midnight November 1, 2014. If you have been eying one of the Kantha quilts, now is the time to order it. Only have one each in stock. Type in the coupon code at check out. All else fails, email me at spool@uniquespool.com or telephone at 208-465-4412.
If you find a pricing error during check out, please let us know for a 25% discount on your next order. For reference, the puppet pricing has been corrected. Electronics, aren't they wonderful!! Not sure when the Gremlin will ply his mischief nor where.
Visit FEATURED PRODUCTS for the most recent items.
Below are a few goodies you may be interested in:
Bargello Christmas Tree Skirt pattern #8116. Bargello panels are used to create this intricate design that will add a delightful accent to your Christmas tree. The Bargello Christmas Tree Skirt pattern is for intermediate quilters.
Finished Size: 64″ Diameter
Skill Level: Intermediate
SHOP HOPS: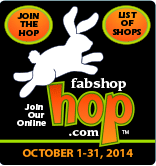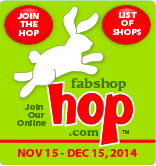 October's Hop is still going strong. Remember, there are no fees for you to participate! You may just win the grand prize or one of many $10.00 gift certificates from a whole slew of shops.
Click on the HOP picture above to go to the official Shop Hop site. You will not only discover new fabric shops but you may just win!!
Web Site HINT:
Those little pink hearts
♥
next to each product on the web site are a great convenience to use while you are deciding on just what you would like to arrive in the mail. Click on the hearts you want to review. They will all be in
MY FAVORITES
under the
SHOP
button next to the
HOME
button. They will be organized in one spot making your selections easier. A great tool for your shopping experience! Add and delete, collect a few, collect a lot. Use it for a wish list.
I am so glad you are a member of the newsletter. I appreciate your loyalty. The various sales, new arrivals and discounts are only available to members of the newsletter. The general public are not aware of them. If you would like to share the coupon numbers with friends, please feel free to do so.
Thanks so much for your participation in our newsletter.
Roberta Dent
208-465-4412
If you experience any difficulties with the site whether it is viewing or while you are placing an order, please let me know either via email at spool@uniquespool.com or phone at 208.465.4412.
—————————————————————————————————————————————-