September 19, 2014 – September 30, 2014
Fixed a glitch on the PUPPETS order pages. Pricing has been corrected. It should reflect the correct price when placing your order. If you come across something that is just wrong, please let me know. A special discount for your efforts.
Like us on Facebook. We post news of quilt shows, new items, point out an existing item, share people's quilt projects, even share other web sites. 1002 follow us already!!
Follow us on Pinterest. Pinterest is an online pinboard. Organize and share the things you love.
Kids should be all back in school now.Falls is nearly upon us. The Holidays are fast approaching. Now is the time we all sew madly preparing for costumes, place settings and gifts. To help you along we have a 30% discount on everything. Coupon code is "september". Sale ends midnight September 30, 2014. If you have been eying one of the Kantha quilts, now is the time to order it. Only have one each in stock. Type in the coupon code at check out. All else fails, email me at spool@uniquespool.com or telephone at 208-465-4412.
If you find a pricing error during check out, please let us know for a 25% discount on your next order. For reference, the puppet pricing has been corrected. Electronics, aren't they wonderful!! Not sure when the Gremlin will ply his mischief nor where.
NEW NEW NEW
Visit FEATURED PRODUCTS or click on the photo.
Eclectic Accent Vest pattern #7804. This versatile layer with subtle shaping is offered in two styles – a stunning knee length version is crafted from velvet, bound with silk ribbon, spanned with a jaunty back belt, and adorned with a roomy artistically embellished pocket. Also, a knee length linen standout highlighted with graphic serged accents, asymmetric tab closure and optional embellishments.
Bargello Christmas Tree Skirt pattern #8116. Bargello panels are used to create this intricate design that will add a delightful accent to your Christmas tree. The Bargello Christmas Tree Skirt pattern is for intermediate quilters.
Finished Size: 64″ Diameter
Skill Level: Intermediate
While sorting out a few boxes, I discovered necklaces from Africa. They have been tucked away for the past 8 years, all but forgotten.
If you like something different, this is it!!
27 inches around with a 3 inch "leaf" in metal. It also have two clay beads. The beads are dark blue and pale blue. No clasp.
Looking for an African necklace to make a statement? this is it.
It is 32 inches around, made of pony beads, clay beads and featuring one large bone black and white bead.
Delightful African necklace with two handcarved animals. One is a lion, the other is a leopard.
The necklace is 28 inches around. Made with pony beads. From Kenya
Lovely blue and yellow African necklace from Kenya.
34 inches around featuring two sets of hand carved bone white beads. Surrounding the bone are six metal beads.
Besides the above necklaces, there are 6 strings of beads. Wear as is or re-bead into your newest favorite thing. These are all from Africa.
For the beaders looking for original bone carved beads from African. These are strung on grasses and are quite heavy. There are 27 beads in all, 18 inches total length.
Below are Chevron beads also strung on grasses, ready to be re-strung into your own creations. There are two of the middle ones and two of the yellow strings.
SHOP HOPS: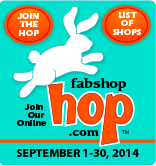 September's Hop is still going strong. Remember, there are no fees for you to participate! You may just win the grand prize or one of many $10.00 gift certificates from a whole slew of shops.
Click on the HOP picture above to go to the official Shop Hop site. You will not only discover new fabric shops but you may just win!!
Andrews Seed Co, 580 S Oregon St, Ontario, OR, 97914, www.andrewsseed.com is having their 3rd annual quilt show from September 1 thru October 31, 2014. They are accepting quilts until the end of August. From their flyer:"We display each quilt with the name of the pattern, quilters name, what year it was done and any other info that the quilter would like us to include. They are displayed well out of reach and taken care of like they are our own." If you are interested in having your quilt hung, contact Susan or Laura at 541-889-9109.

Web Site HINT:
Those little pink hearts
♥
next to each product on the web site are a great convenience to use while you are deciding on just what you would like to arrive in the mail. Click on the hearts you want to review. They will all be in
MY FAVORITES
under the
SHOP
button next to the
HOME
button. They will be organized in one spot making your selections easier. A great tool for your shopping experience! Add and delete, collect a few, collect a lot. Use it for a wish list.
I am so glad you are a member of the newsletter. I appreciate your loyalty. The various sales, new arrivals and discounts are only available to members of the newsletter. The general public are not aware of them. If you would like to share the coupon numbers with friends, please feel free to do so.
Thanks so much for your participation in our newsletter.
Roberta Dent
208-465-4412
If you experience any difficulties with the site whether it is viewing or while you are placing an order, please let me know either via email at spool@uniquespool.com or phone at 208.465.4412.
—————————————————————————————————————————————-